Purchase the E-book now via ClickBank for only $19.95 $9.95.
With ClickBank, you are purchasing access to our secure website to read our book online.
You will be taken to an order page like the one shown below.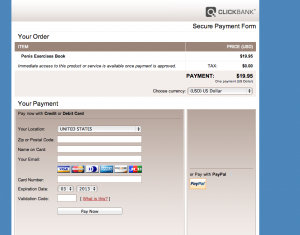 [s2Member-Pro-ClickBank-Button cbp="3″ level="1″ ccaps="" desc="Penis Exercises Book for $19.95″ custom="www.penisexercisesbook.com" tp="0″ tt="D" rp="1″ rt="L" rr="0″ image="default" output="anchor" /]
Or Order your paperback or Kindle copy now!